You are in:
home
>> hotel
THE HOTEL OF THE SALAMANDRA GOLF RESORT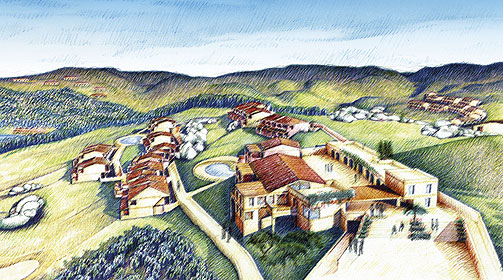 The Club House is the hub of the golf social activities: an ideal place for a nice relaxing time, talking with friends and golf fans.
The Club offers a chic restaurant, halls and parlours, in addition to many other top comforts and facilities and to a terrace with a wonderful panoramic view.
An oasis of wellbeing for body and spirit:
personalized treatments, a relaxing area, an exclusive gymnasium and a wonderful swimming pool with temperate water.
A luxury and innovative resort
In perfect harmony with its beautiful natural environment, the Hotel is located, as a jewel, in the centre of the Salamandra Golf Resort. Its low buildings, arranged almost as independent houses, are inspired to the Mediterranean style of Costa Smeralda.
Each of its 400 rooms offers a wonderful view of Maddalena Islands with all their enthralling beauty, bringing its guests into Gallura magic atmosphere and caring for them with top quality services.