You are in: home >> location
LOCATION FOR AN "EXCLUSIVE PROJECT"
A crystal clear sea, an untouched and luxuriant nature, houses hidden into the green of the Mediterranean bush, high level services. This is a new definition of "An Exclusive Project".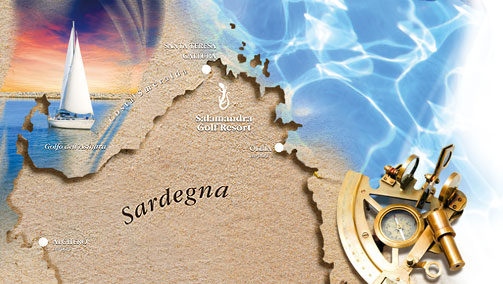 The Salamandra Golf Resort is the ideal choice for those wishing to live into the nature and, at the same time, close to the chic tourist locations of Costa Smeralda.
Salamandra Golf Resort is the ideal place for rediscovering the pleasure of enjoyable and amusing times, surrounded by the green of nature and comfort.
HOW TO GET THERE
Thanks to the many flights and ferries connecting Costa Smeralda to Italy and Europe, it is easy and comfortable to get to the Salamandra Golf Resort. Just one hour flight from the main Italian airports or a few hours of ferry will bring you to the Gallura sea and sunshine.
Olbia: Flight - Ferry
About 48 minutes drive to get to the resort
Palau: Ferry - About 15 minutes drive to get to the resort
Porto Torres: Ferry - About 1 hour and 50 minutes drive to get to the resort
Alghero: Flight - About 2 hours and 15 minutes drive to get to the resort